New Era Combination K 240's Tissue Salts - Hair and Nails
Regular price

Sale price

£10.29
Product Info

Looking for a hair and nail supplement that contains all-natural ingredients? Look no further! Mineral Cell Salt Combination K contains potassium sulphate, sodium chloride, silicon dioxide. Kali. Sulph., Nat. Mur., Silica. 12 tablets provide + 13.75ug of biotin (27.5% Reference Intake). Formulated strictly in accordance with Dr. Schuesslers principles and system, this supplement is the perfect choice for maintaining healthy hair and nails.

Switching to a healthier lifestyle doesn't have to mean giving up on your favorite treats! With New Era Combination K Tissue Salts - Hair and Nails, you can treat yourself without compromising your health goals. The mineral cell salt combination K contains potassium sulphate, sodium chloride, silicon dioxide, kali and sulphates which are all essential minerals for strong hair and nails. Plus, the biotin in this supplement is 27.5% of the recommended daily intake - that's how much more you get with this formula! Take these tablets daily to help ensure strong and healthy hair and nails that will last long!
Directions

Dissolve four to eight tablets on or under the tongue three times per day.
Children under 12 years of age should use half dosage.

It is quite safe to take these New Era Tissue Salt tablets alongside other medicines or supplements.
Ingredients

EACH TABLET CONTAINS EQUAL AMOUNTS OF 6X: KALI SULPH (POTASSIUM SULPHATE), NAT MUR (SODIUM CHLORIDE), SILICA (SILICON DIOXIDE).
Suitable for
Share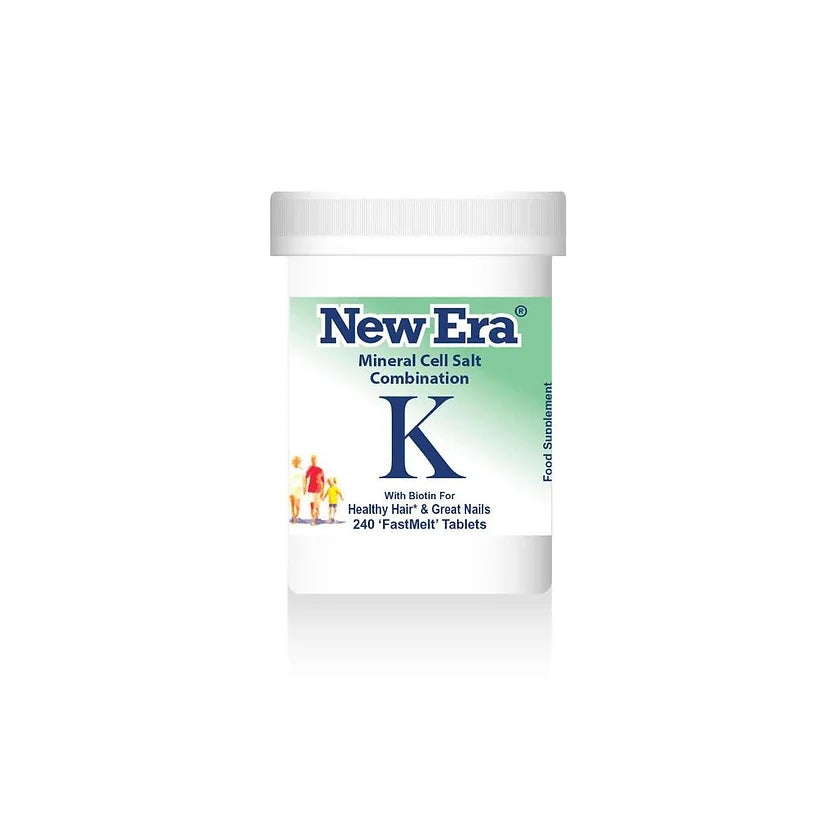 Tissue salts are game changing for cellular healing
Love these and all the other tissue salts Iv purchased. They are truly amazing and work wonders for healing skin hair nails etc!