Natures Plus Bioadvanced Monthly Support 60 Caps
Regular price

Sale price

£28.95
A whole food–based blend of nutrients and botanicals to help with your monthly cycle.
Product Info

Hormonal health and fertility support for women. A unique complex of bioavailable vitamins, minerals, whole foods and herbs specially formulated for menstruating women to support hormonal health, fertility, energy and vitality.

Hormonal Balance: The ingredients in Bioadvanced Monthly Support, such as Vitex agnus-castus (chasteberry), dong quai, and black cohosh, are known for their ability to support hormonal balance. These herbs may help regulate hormonal fluctuations during the menstrual cycle, potentially reducing symptoms like mood swings, irritability, and bloating.

Menstrual Comfort: Many women experience discomfort during their menstrual period. Bioadvanced Monthly Support contains herbs like cramp bark, ginger, and chamomile, which have traditionally been used to alleviate menstrual cramps and promote overall comfort during this time.

Emotional Well-being: Hormonal changes during the menstrual cycle can affect mood and emotional well-being. This supplement includes ingredients such as St. John's Wort and L-theanine, which may help support a positive mood, reduce feelings of anxiety or sadness, and promote emotional balance.

Energy and Vitality: Some women may experience fatigue or low energy levels during their menstrual cycle. Bioadvanced Monthly Support includes nutrients like B vitamins, magnesium, and iron, which can help support energy production and combat fatigue, promoting overall vitality.

Menstrual Regularity: For women with irregular menstrual cycles, this supplement's blend of herbs and nutrients may help promote a more regular and predictable cycle, supporting overall menstrual health.


Directions
Ingredients

Vitamin D (vegan cholecalciferol); Vitamin C (naturally occurring from Amla Berry [Emblica officinalis]); Thiamin (vitamin B1) (as thiamin hydrochloride); Riboflavin (vitamin B2); Niacin (as nicotinamide); Vitamin B6 (as pyridoxine HCl); Folate (as calcium-L-methylfolate); Vitamin B12 (as methylcobalamin); Biotin; Pantothenic acid (as calcium pantothenate); Zinc (as picolinate); Chromium (as picolinate); Diindolylmethane (DIM); Broccoli Sprout (Brassica oleracea); Lemon Balm Leaf Extract (Melissa officinalis) supplying 5% (2.5mg) Rosmarinic acid; MilkThistle Seed (Silybum marianum); Flax Seed (Linum usitatissimum (naturally occurring lignans [SDG] secoisolariciresinol diglucoside); Kelp (Ascophyllum nodosum)
Other ingredients: magnesium (magnesium bisglycinate chelate supplying 30mg magnesium; magnesium taurate supplying 20mg magnesium), capsule shell: hydroxypropyl methyl cellulose, calcium (Lithothamnion Spp. supplying 40mg calcium), ascorbyl palmitate, bulking agent (microcrystalline cellulose)

Share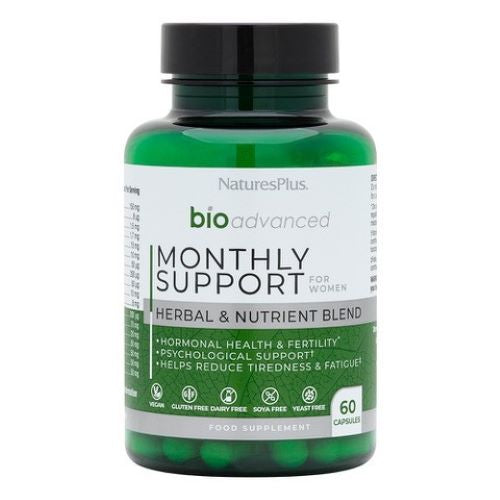 100% Effective
As someone who struggles with imbalanced hormones and constantly an emotional & physically a wreck every monthly menstrual cycle. At first I couldn't see the changes in the first few days but after weeks and a month or two I felt a change in my energy and most importantly a feeling of calmness. No crying or emotional breakdowns that usually occurs during my period in the 2 months I was taking these Monthly Support supplements.
My menstrual cycle were finally on time as it usually always comes late. I had no signs of feeling defeated or down as I would always regularly feel monthly. I have now finished a bottle of the supplement and haven't taken them for 2 weeks.
I testify that I have seen a massive difference in terms of my emotions and my body. Usually, my body would feel extraordinary sore whilst on my menstrual cycle as well as it always being delayed. I believe the Monthly support supplement helped me regulate my emotions and helped my period come on time.
100% recommend for women who have just given birth and who struggle with their mental health.